Live Broadcast: Teresa Torres, Vice President, Products, AfterCollege, Inc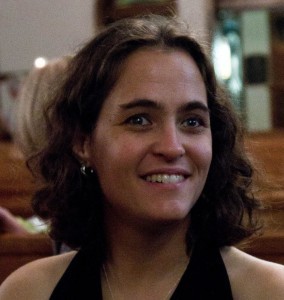 Teresa Torres, Vice President, Products, AfterCollege, Inc discusses Developing Product Expertise on the Global Product Management Talk
"In talking with founders, investors, product folks, designers, and engineers, here in Silicon Valley, I'm starting to realize that product management is still grossly under-developed. At many startups, the function, if it exists at all, is nothing more than translating feedback into feature lists, prioritizing that list, and calling it a product roadmap," comments Teresa Torres.
"I've met countless product professionals who are interested in mastering their craft. One of the most common questions I get is, how do we get better at building great products. This is a hard question to answer. What skills should we develop? How much of product success is luck? What does it mean to be a product expert?"
We'll explore these questions and many more in this one hour chat.
Participants are welcome to listen live at http://www.blogtalkradio.com/prodmgmttalk, call in to talk on the show (323) 927-2957 and to participate on Twitter by following @ProdMgmtTalk and tweeting using the hashtag #ProdMgmttalk
Listen! http://bit.ly/17QxXmN
Teresa says, "I'm looking forward to discussing developing product expertise with Cindy and the Global Product Management Talk community. The broadcast and Startup Product events are an excellent platform for discussing important issues that forward product professionals and leaders to guarantee that more big ideas turn into great products."
Teresa is speaking at the Startup Product Summit SF2 on October 12, 2013 at Broadway Studios in San Francisco which is like Tedtalks for Product excellence.
Learn about managing products to success at Product Bootcamp San Francisco Oct 10-12! http://bit.ly/14ZagOP 
Oct 10: Workshop Day: competitive space & Lean startup way. http://bit.ly/14SMcaC 
Oct 11 Startup Product Summit SF2 lightning talks w/experts & practitioners. http://bit.ly/1bvsOFm
Oct 12 ProductCamp San Francisco! true community unconference http://pcampsf.com
More information, registration and sponsorship opportunities available at https://startupproduct.com
About Teresa Torres
I'm a product consultant and coach who works with early-stage companies helping them translate their big ideas into great products. My focus is on helping product managers be better at what they do by sharing knowledge, building know-how, and refining practice. Professionally, I've worked as an interaction designer, a user researcher, and in a variety of product management roles from an individual contributor to a vice president. I was also the CEO of a social media startup that dabbled in social recruiting and higher education. http://www.linkedin.com/in/teresatorres
Email producttalk at teresatorres dot com.
On twitter: @ttorres http://www.twitter.com/ttorres
Blog: http://producttalk.org
About AfterCollege, Inc.
AfterCollege is the largest career network for college students and recent graduates. We are working to eliminate unemployment among college students and recent grads by helping students explore jobs and internships based on answers to 3 easy questions: what did you study, where, and when do you graduate. Featuring 400,000 entry-level jobs and internships from 25,000+ employers, AfterCollege reaches more than 5,000,000 users each year, including 18,000 faculty, student group and administrative contacts at over 2,000 colleges and universities. http://www.aftercollege.com
See on www.blogtalkradio.com