Proposed PCampSF Session: Use experiments to align a team and deliver faster in big co's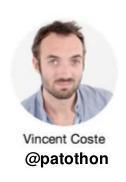 Title: Use experiments to align a team and deliver faster in big co's (aka killing the ticketing culture) Session Leader: Vincent Coste
StartUP Product's insight:
The main problems when innovating in big companies are
Ticketing culture,
loss of ownership and
loss of empowerment
What helped us is a framework we crafted during 18 months, that we called experiments. Experiments are testable and measurable actions that allow to validate or invalidate assumptions and hypothesis we make everyday as product managers.
– how the measurable aspect of those experiments gave ownership to people working on the project.
– how the testable aspect helped us focus and align the team around credible and written goals
– how the fact that you need to follow them through time, weeks, sometimes months helped us empower people and make them accountable and responsible for the whole product.
In Theory and then a practical example with a part of the marketing team.
Vincent Coste is a product manager and intrapreneur. He usually works with big companies to help them build new products. He worked as an IT consultant, but also as a freelance developer and Product manager, in web and mobile products. He founded hubluc.com and appibabi.es, before trying the intrapreneurial adventure with chooseyourboss.com.
———————————-
Register today for @ProductCampSF
ProductCamp San Francisco is day 3 of: Product Bootcamp San Francisco October 10-12, 2013:
Where do people who are passionate about product excellence learn how to manage products, find like minded professionals and mentors, learn from the mistakes of others, get perspectives outside of their domain, acquire tools to forward their product at every stage of the product lifecycle, discover role models, hone their art and craft for managing products across disciplines, stay up on the latest innovation and methodology, and share with others to forward their careers?
Product Bootcamp San Francisco October 10-12, 2013 at Broadway Studios, 435 Broadway, San Francisco, California. Three packed days of learning, networking and sharing with the best and brightest product leaders, practitioners and experts representing a wide spectrum of top companies, startups and products.
See on productcampsf.com