The Guide to the Product Management and Marketing Body of Knowledge: ProdBOK(R)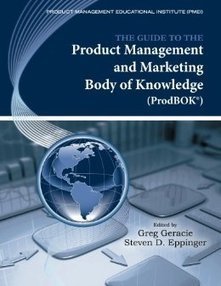 The Guide to the Product Management and Marketing Body of Knowledge: ProdBOK(R) Guide [Greg Geracie, Steven D. Eppinger]
StartUP Product's insight:
A historic milestone for the product management profession! As stated in the first chapter, "It was developed to give product managers information that would motivate them to look deeper into the subject and research the far greater body of knowledge that exists within the product management domain. It is a living reference that is constantly evolving."
Greg Geracie, President of Actuation Consulting, will talk with Cindy F. Solomon on the weekly Global Product Management Talk on Monday, September 9, 2013 at the simultaneous times of [10:00] AM Pacific Time, [11:00] AM MST Denver, [12:00] Noon CST Chicago, and [1:00] PM EST Boston.
Participants are welcome to listen live at http://www.blogtalkradio.com/prodmgmttalk, call in to talk on the show (323) 927-2957 and to participate on Twitter by following @ProdMgmtTalk and tweeting using the hashtag #ProdMgmttalk
Greg says, "It's been a tremendous privilege to collaborate with a wide swath of industry thought leaders inside and outside of the product management community. Delighted to celebrate the publication of the ProdBOK with the Global Product Management Talk community!"
Listen! http://bit.ly/17jR2jg